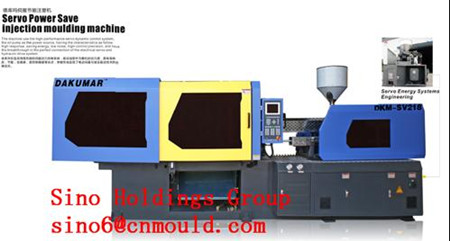 Dakumar Machinery Co., Ltd, famous brand injection molding machine manufacture, which founded in 2001 and located in Huangyan city, China mould town, dakumar machine researched PVC special series, the model from DKM118 ton to DKM650ton.
Special PVC pipe machines designing, due to the raw material has a low moisture sensitivity, however better result can be seen when PVC is dried for 4 hours in a dehumidified dryer at 65- 75 degree. based on raw material features for machine designing, we developed the PVC injection molding machine must ensure the special requirement of PVC products:
1.Hard chrome plated screw, nozzle to ensure the quality of PVC production and extend the life of the mechanical parts, all components are highly anticorrosive.
2.Widened safety door design, equipped with double core pulling devices.
3.Enlarged hydraulic motor, to fit the high torque requirement of PVC plasticization.
4.Melt temperature is critical in mouldingPVC, melt temperature is different from heater band temperature.
5.Oil cooling and water cooling system in screw and barrel for large-sized machine.
Using PVC pipe machines, it is very important to purge barrel of injection molder with GP ABS, Acrylic, PE before and after the use of PVC compounds. The injection machine must not be shut down with PVC in the barrel. If the material is left in the barrel, it will degrade and the screw and barrel will have to be removed and cleaned mechanically.
Welcome to contact me if you have related PVC projects, we are sure to offer you the best price.
Posted by Ms. Rachel
Skype: sino-mould01
Tag: plastic injection machine injection machine maker plastic machine manufacturer