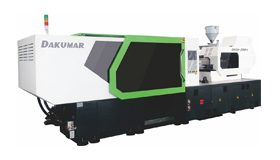 Cap / Closure Molding Machine
Cap/Closure molding request mass production at highest speed to reach high volume of the plastic package industry. To meet 3s high speed cap closure molding request, Dakumar engineering team developed an tailor made cap injection moulding machine which is to realize the cap high speed turning of the cap unscrewing ejection. Machines are suitable for run caps from 48cavity PCO 28, up to 96cavities cap mould at highest speed.


Cap Injection Moulding Machine and Plastic Closure Molding Machine
Dakumar manufactures cap high speed injection moulding machine from the model Nr. DKM118 to DKM780. The standard cap high speed injection moulding machines are equipped with accumulator to realize the cap high speed turning of the screw. The optional for cap high speed mould close and mould open are also available.
Dakumar's cap injection moulding machine has the special design for the machine's base, machine's frame and especially the clamping system. The high speed, precision injection... all these have got the high praise from all the visitors and all our cap high speed injection moulding machines' user as well as plastic closure molding machine users.
1.with our cap/closure molding machins, is has some main advantages as below: 1. machine control KEBA from Austria, servo motor PHASE from Italy, oil pump Eckerle from Germany... all these are international famous brand, like other high top range machines for good quality machines. also our machine control with multi languages, English, French....
2. our servo motor machines can save 20-80% electricity power when compared with trational machines. it saves power when servo motor do not have actions, such as coolings during molding do not need servo motor workings.. when compare with your competitors, our machines can reduce your basic unit cost down and make you more advantages in marketing
3. our machines are made with hydraulic, mechnical&electronic insurance safety, this is we made according to CE standard for end user safety machine operations.
4. machine is equipped with electrical camera, when your injection lines is with automatic operations, it is very essential, it can make your machine stop if no parts fall down. this can avoid machine close when parts still stick on the molds, and avoid your molds demaged.
5. we have our engineers team which can offer online and on spot service, inlcude machines commissions...
if you are looking for plastic cap or plastic closure injection molding machines, welcome come to Dakumar machinery.