PET Bottle Production Line
Dakumar supply customers with complete PET bottle production line solutions from perform making to downstream packaging,we offer complete bottle turnkey molding line with high quality.We help our customers find the most economical way to do the investment! With excellent quality, diamond service, Dakumar has already recognized as the most reliable enterprise who offer the turnkey solution for PET bottle production line for our customers all over the world! However, Dakumar is not satisfied with our achievement, we will make efforts to improve ourself to make contribution for booming the PET market!
What we are packaging?
· Water
· Tea/Juice
· Carbonated drink
· Dairy
What equipment do we offer ?
· Preform Mould
· Preform molding system
· Bottle Mould
· Bottle blowing system
· Filling system
· Conveying system
· Downstream Packaging System
Bottle production flow chart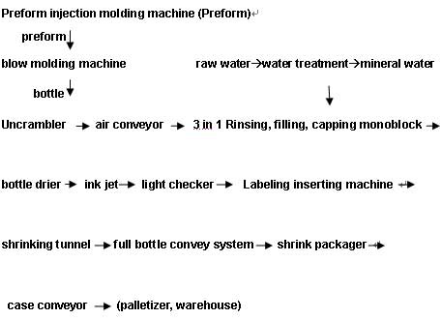 Provide following information to get the most economical solution from us
· What's your bottle specification? Includes Bottle shape, bottle volume, bottle weight, bottle neck diameter, bottle filling temperature.
· What are you going to pack? (water, juice or carbonated drink ? )
· What's the productivity do you expecting in one hour ?
Dakumar can offer you engineer door to door service. We help you design the workshop layout, install all the equipment in your workshop, and training your engineers. Welcome to visit Dakumar and contact us, our aim is to provide customers with the PET bottle production line that with the best return on investment!