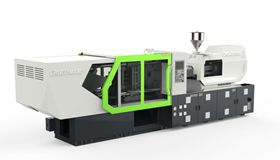 Thinwall Container Molding Machine
Dakumar injection molding machines designed for thinwall container in multi-cavities such as 4cavities, 8 cavities, and 12cavities. By self-sealing valve gate system in the high speed injection molding unit, Dakumar machine can act at the 0.002s for fast injection and precision control process. This is also the key points what Dakumar thin wall plastic machines can produce repeatable plastic components at high quality and high speed molding cycle.


Dakumar, one of best well-known plastic injection molding machine supplier, exporter and manufacture all over the world We not only offer clients thin wall injection molding machine, thin wall injection molding solution, but also provide different kinds of thin wall injection molding service for our clients.
We have a design department with many professional designers, who have many year experience in design thin wall injection molding machines,
especially for high speed injection machines. We use high thin wall injection molding technologies to find a solution for our clients.
Compared with normal injection machine, our thin wall high speed injection machine have bellow advantages :
Machine adopts high precision single cylinder injection system, especially suitable for high speed injection with low-inertia and high response speed. Thin wall high speed injection machine can produce thin wall products more efficiency and production cycle time is more short.
Machine with high response servo system, machine output according to actual need, no overflow no waste. It can save power around 30-70%.Compared with traditional machines, we use servo motor to save energy consumption and at the same time control the position more precise.
Thin wall high speed injection machine is with mechanical, hydraulic, electrical triple protection.
Security module independent control will be ensure that there is no mistake of machine closing, injection, charging, nozzle forward to avoid any accident.
And the high speed injection machine is specially developed for high speed and high precision injection molding. The machine frames, clamping units are much more stronger for high speed injection. And they are also very stable for high pressure working.
This kinds of high speed injection machine take advantages of high injection speed ,shorten running cycle time, work more efficiency and especially suitable for ultrathin, precious and complicated products.
If you have any project need thin wall high speed injection machine, please feel free to contact us. We will offer you best solution for your thin wall high speed injection molding.