DAKUMAR manufactures robot systems for plastic injection moulding in China which is suitable to be used in the food packaging, in mould labelling (IML), in CD box production, etc.
There are custom made function for injection molding processing. By using multi-functional robot automation, to help your production quality and efficiency, dakumar offering robot system for IML, gate cutting, in mold assembling.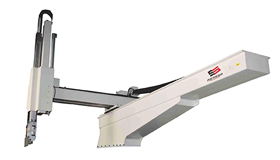 Sino Holdings provides customers with plastic construction projects, from a variety of production line solutions, tailor made robot system, injection molding machines, molds, manipulators, and other auxiliary machinery.
Copyright © Dakumar Plastic Injection Molding Machine 2007. All Rights Reserved.