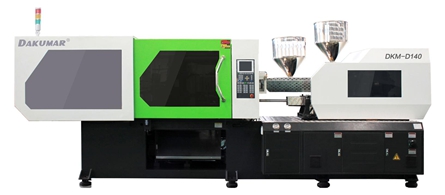 Mix-Color Molding Machine
Dakumar Mix color injection moulding machine model ranges are from DKM118 to DKM500, it is prefessional in all kinds of mix material injection moulding

Dakumar Mix color injection moulding machine model ranges are from DKM118 to DKM500, it is prefessional in all kinds of mix material injection moulding, currently, Dakumar can make 3 colors mix injection moulding machines.
Mixed dual color jet and two component jet which are matched with special designing complex nozzles can produce special patterns and different colors on the base of using original mould, and increase the addiive productin value.
Characteristics of products With finest steel and most innovatory ion-nitriding process, the hardness of screw and barrel reaches above HV950 to ensure high wear resistance. With such features as limitations for screw cold starts, broken wire detection, and etc., a PID temperature controller is used to control the temperature at ±1℃. Rotary table wouldn't be touched the platen, thus reducing the damage possibility. Besides, with accurate confirmation of the rotation position, it will protect the molds themselves. Two isolated barrel sets inject the same time to reduce the cycle time to gain more profits for customers.
Superior hydraulic design system ensures the decrease of tube pressure. Assembled with pump and motor, it can lower the machine's noise to 80DB below.High torque and excellent performance of hydraulic motor can drive screw directly and shorten plasticizing time so as to save energy.
With an accuracy reaching 0.1 mm, linear potentiometers are used in the two injection sets and clamping molds to accurately control mold closing and opening and the whole injection process.By virtue of PRO/ENGINEER computer's designed clamping system, the clamp stroke and distance between tie bars have been enlarged for versatile usage.
This type of machine is equipped with the 180 degree rotary table which may put two molds to produce two component products.DKM has designed two sets of core equipment on the rotary table and cooling system in the molds as well.
DKM constantly upgrades the quality of its much prided machine. The clamping force of this machine is 1000 tons, and the rotary table diameter is 1600mm. It's the largest two component injection molding machine ever produced in China.Increased durability through the application of new series toggle system upon Finite Element Analysis(FEA), has high strenth to increase lifespan of tie bars and assures of superior quality of products.