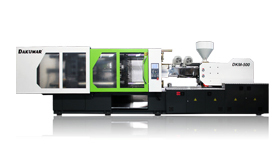 PVC Injection Molding Machine
Dakumar team understand PVC production line requirement need a special designed PVC injection molding machine for powder PVC or rigid PVC molding process. Therefore, our technical team design the PVC molding machine with special screw and barrel for PVC material, more core pull for PVC molds action, and increased frame door for PVC molds running.


Dakumar takes immense pride in its unique and specially designed PVC machine. These machines are used for PVC pipe fitting manufacturing. Dakumar has taken certain measures to specially design the door and PVC machines' cover. All the mechanical components that are used in the construction of the machine are either chrome or nickel plated. This prevents them from getting corroded over time. The PVC machines made consists of specially designed screws and barrel. The temperature is maintained through a unique controlling system.
With its relentless efforts to achieve the best, Dakumar has acquired 3 patents for the
PVC machines
. The nozzle through which the product flows is made of chrome and is large enough to handle the required volume. An oversized hydraulic motor is attached so that the large torque requirements, which are needed for plasticizing PVC, could be handled.
The curve slide core fitting offers strict dimensional control and high precision surface finish, smooth ejector pin mark and gate mark. The smallest size of φ32mm for the collapsible core can be reached. Designing a mold of small size and using a small PVC machine results in sturdy and durable PVC pipes.
Key Features:

Chrome plated specialized PVC components, which offer best results and increase the life of the machine

Widened safety door designs, with double core pulling system

Forced cooling of the barrel by compressed air through air channels in individual zones

Enlarged hydraulic motor

Oil and water cooling systems in the screw barrel