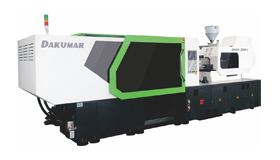 Dakumar high speed injection molding machines with are hybrid system which is specially designed with parallel movement in plasticizing system, machine opening and ejection action at the same time. This is to minimize machine cycle time as less as 1.2second dry cycle without shorten the machine qualified lifetime. From machine base, machine toggle system, machine PC system, machine lubrication system, all applied for high speed running at smooth and stable condition.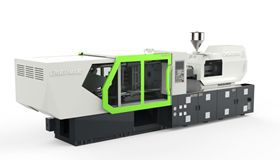 Tailor made high speed injection machine manufacturer, customized injection machine maker- In order to meet various requirement of high speed production of plastic thin-wall or precision injection projects, Dakumar Machinery, devoted to design according to special specification for our customers. Therefore, you can have your tailor made high speed injection machine for many functions, such as adaptor to platen size, injection speed upgrade, optional pump or valve brand, more air ejection system or core pulls, special robot interface and program...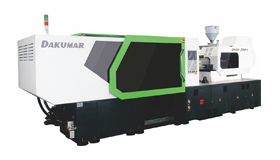 Dakumar is a famous manufacturer for high speed IML molding machines in China. We adopt Italian technology for In mold labeling robot program, European standard for IML molds standard which can reach 2.2s cycle time for IML production capacity cycle time. With the know-how of plastic thinwall injection molding skill, high precision parameter control by international famous brand valves and components and latest IML technology, Dakumar high speed molding machine is extremely suitable for reach the world leading IML molding line suppliers.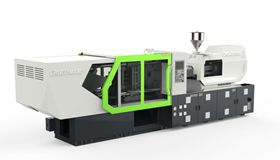 Dakumar injection molding machines designed for thinwall container in multi-cavities such as 4cavities, 8 cavities, and 12cavities. By self-sealing valve gate system in the high speed injection molding unit, Dakumar machine can act at the 0.002s for fast injection and precision control process. This is also the key points what Dakumar thin wall plastic machines can produce repeatable plastic components at high quality and high speed molding cycle.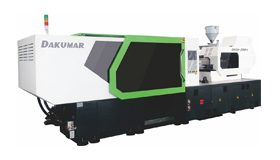 Cap/Closure molding request mass production at highest speed to reach high volume of the plastic package industry. To meet 3s high speed cap closure molding request, Dakumar engineering team developed an tailor made cap injection moulding machine which is to realize the cap high speed turning of the cap unscrewing ejection. Machines are suitable for run caps from 48cavity PCO 28, up to 96cavities cap mould at highest speed.
Copyright © Dakumar Plastic Injection Molding Machine 2007. All Rights Reserved.