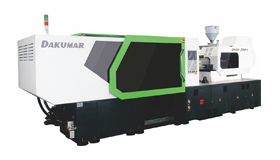 IML High Speed Molding Machine
Dakumar is a famous manufacturer for high speed IML molding machines in China. We adopt Italian technology for In mold labeling robot program, European standard for IML molds standard which can reach 2.2s cycle time for IML production capacity cycle time. With the know-how of plastic thinwall injection molding skill, high precision parameter control by international famous brand valves and components and latest IML technology, Dakumar high speed molding machine is extremely suitable for reach the world leading IML molding line suppliers.

Dakumar supply high speed IML system for our customers all over the world. IML equipments include IML mold, high speed IML injection molding machine, necessary additional machines, IML robot and so on. We offer turnkey project solution for the high speed IML molding line with IML technologies support.
Compare to common injection molding line, in mold labeling system added one part for the IML robot with prepared IML labels, it is used for sending IML labels into the mold and collect the plastic parts. This step could be instead by manual operating with static device for the IML labels.
In order to get high speed IML molding line, there have high requirements for each IML equipments. We must make sure each in mold labeling device work short cycling time in order to get high speed running.
For the IML mold, we design optimized cooling system with reasonable mold structure. We use imported stainless steel material for the IML mold core and cavity, all the mold spare parts we designed with standard parts which is easy for mold maintenance and run time running.
For the IML machine, we developed a new injection molding machine type which is suitable for thinwall high speed molding production, named hybrid injection molding machine. The new type of high speed injection molding machine is with high safety, high precision, high stability, high recyclability and high power saving ability. All the injection machine electronic components we use world famous brand, for example, we use KEBA brand controller made in Austria, use phase brand Servo motor made in Italy, use Novo brand electronic ruler made in Germany, use MOOG brand servo valve made in Germany, use Intermot brand hydraulic motor made in Japan and so on. For the high speed injection molding machine, it could save about 3s for finishing mold opening, mold ejection and material charging at the same time.
For the IML robot, we imported from Italy which could run with 6axises, it could finish all the work within 2s, with high precision running and easily operating.
With high quality IML mold, IML machine, IML robot and suitable size auxiliary machines, we could get high speed IML molding line. According to customer's quantity demand, we could design mold cavity number according to the IML molding line running cycle time. All the IML devices are working separately but matched with other parts well without waiting time, we could get 5s cycle time for the thinwall IML molding line.
Dakumar supply high quality in mold labeling solution for I.M.L machine and I.M.L technology support. We could arrange engineers to visit customer workshop for the IML molding line setup and staff training. Welcome to contact us for more information.