Dakumar is Hydraulic plastic injection machine maker, we offer many models hydraulic injection molding machines with precision and stable performance, we have been in making plastic manufacturing machine for many years, got the praised for our superior operating system and highly speed. We already got the CE standard certificate and pass other safety test. So we hope to be your sole hydraulic plastic injection machine maker.

Dakumar hydraulic plastic manufacturing machine totally have 5 attractive features, and it is not like the full-electric controller injection molding machine with high price, but also enjoy its energy saving, high speed, low noisy, etc. So why do no buy the hydraulic injection molding machine from us?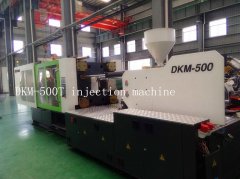 1.more higher speed
Our machine is use single cylinder injection system, which is good for quickly reflect of machine. By the way, we equipped accumulator associate the injection molding machine to inject. The speed could reach 450mm/sec.
2. more energy saving
Our machine is also servo motor machine, we choose servo saving system, supplying the precision oil depends on the machine operation. There will save energy more than 30%-70%
3.more precision operator
Our machine are choose the high standard devices, so we use the KEBA brand PLC controller, which is made in Austria, it could control the locate and temperature very precision.
4.machine more safety
We do many covers around machine, and set many limit switches to make sure all the machine moves will not hurt operator. Safety system control machine clamp, inject.etc.
5.Machine more time effective
Our machine is with more time effective by using the servo motor system, it could shorten the time around 40%.

If you interested the hydraulic injection molding machine and want to know more detailed machine parameter about ours, pls contact me –sino1507@sinomould.com, Ms Carol
Tag: plastic injection machine injection machine maker plastic machine manufacturer