Dakumar Machinery Co., Ltd, the world famous injection molding machine manufacturer in China, founded in 1992 and located in Huangyan, China mold town. Now we have set up many agent service in different countries, such like Russia, Turkey, Mexico, South America, Iran and so on.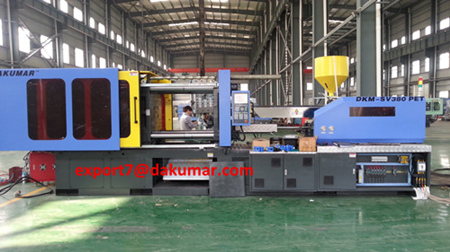 Dakumar machines production catch around 3000sets of different tonnage machines, machine model from DKM50to to DKM4000ton, To get the long life time for injection molding machine, as these machines are widely used their maintenance, efficiency and uniform production of products are some issues that should be kept in mind. We have offered many turnkey project solutions for some new customers, so its very important for them to know some daily maintenance.
Maintenance of injection molding machine operation program: injection molding machine operating items include keyboard controls, electrical and hydraulic control system operating system operating in three areas. Separate injection process action, feeding movements, injection pressure, injection speed, the top choice of type, cylinder temperature of each of the monitoring, injection pressure and back pressure regulation and so on.
Injection molding machine has a complex shape to a shape, size, precision, or with metal inserts dense texture of the plastic products are widely used in national defense, electronics, automotive, transportation, building materials, packaging, agriculture, culture, education health and daily all areas of life.
If you need any details maintenance for injection mold machine, welcome to contact Ms. Rachel, thank you!
Tag: plastic injection machine injection machine maker plastic machine manufacturer